"Extraordinary claims demand extraordinary evidence"
Please note: The Rocky Mountain Skeptics are defunct. I am leaving this site up for historical purposes only, as a favor to the former president of the group.
Announcing a new book on Therapeutic Touch
by RMS president Bela Scheiber
and RMS vice president Carla Selby!
Finally there is a serious scientific inquiry into this mysterious yet commonplace practice.Therapeutic Touch is the first and only critical examination of the TT subject. Its history, ethics, personalities, battles, and central experiments are all examined in this engrossing and comprehensive volume. A must read for anyone in the healthcare profession and consumers who are confronted with healthcare decisions.
Find out more about the book, including ordering information!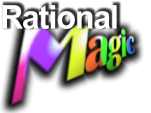 Return to the Rational Magic main page

Last updated: 07/14/03
You are visitor number
Webmaster: Aviva Rothschild. Got comments about the page itself? E-mail me!
Copyright Rocky Mountain Skeptics (RMS), 2003