GENRES:
Science fiction; sports fiction
AUDIENCE:
Kids; perfectly clean
SYNOPSIS:
Roger's disgusted: he loves to play baseball, but all his friends are obsessed with their spaceship-like time machines. He has one, but he's hardly used it. As the captain of the Ravens, he tries to get his teammates ready for the championship game, but they're so confident in themselves that they skip practice and rush off to different times for fun. Then Roger's dad advises him to use his time machine to go meet Babe Ruth. "Cool!" exclaims Roger, and off he goes.
After watching a game in which the Babe hits two home runs, Roger tries to meet the great man but is turned away at the clubhouse door. As he goes back to his time machine, however, the Babe comes over to see this funky-looking "car." The Babe is skeptical that it's a time machine, so Roger makes a bargain: give me some batting tips and I'll take you back in time. The Babe agrees but insists they take the time trip first, and Roger takes him to Ancient Greece. They participate in the Olympics, in a chariot race, and in the building of a temple. Then the Babe wants to go to meet Leonardo da Vinci. Roger wants his batting tips first, but he reluctantly agrees to take this trip. But when they get back in the time machine, the Babe wants to drive it himself--and he presses the wrong button!
EVALUATION:
Although billed as a "graphic novel" on the cover, this book is about half graphic novel and half standard picture book. It's a cute, unpretentious little title with good dialogue and a silly story. The lesson it teaches (that practicing is important) is not hammered at the reader, but is presented with relative subtlety at the book's climax, when the Ravens have their championship game and the only kid who plays well is Roger, because he spent a week practicing with the Babe. Of course, though, the Ravens still win, which leads cynical old me to wonder if some kids might perceive the message as, "Only one of us has to practice for a team to win!" But I guess having the Ravens lose would have been too much of a downer, especially after all the home runs Roger hits thanks to the Babe's advice. And I do like the pro-history air of the book--the notion that the past is full of amusements for kids, like helping Michaelangelo paint the Sistine Chapel. Indeed, at the very end of the book, Roger and the Babe finally go off to visit Leonardo da Vinci rather than play more baseball.
Stamaty's pencil art is often amusing, though plagued with stiffness in panels where the characters don't express much emotion. However, the faces of people in difficulty are quite funny, and Stamaty has a decent sense of cinema, as when Roger finds himself alone on the baseball diamond, waiting in vain for his teammates, or when he meets the Babe for the first time. Speaking of the Babe, he doesn't look much like the real thing, but kids wouldn't know that anyway.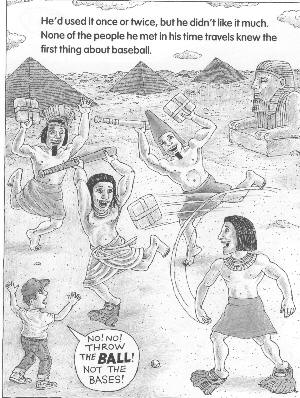 A good example of Stamaty's whimsy, stiffness, and mingling of picture-book style and comics style.
Copyright 1999, Mark Alan Stamaty
Not a classic, but kids into baseball or time travel fiction should enjoy this title. I'm not good at "kid," but I'd guess this book would be most appropriate for ages 7-10, older kids who are reluctant readers, and younger kids who are good readers. The pencil art might be overlooked by kids more accustomed to four-color comics, but this book would be a good introduction to black-and-white comics for them, perhaps as part of a unit on graphic novels--not that anyone's doing stuff like that, but it's an idea. I do wish the entire book had been done in comics format, rather than just parts of it--the picture-book parts might be offputting to older kids.