GENRES:
Fantasy; folklore
AUDIENCE:
Kids, teens, adults
SYNOPSIS:
In 1989, an Italian truffle-hunter and his pig dig up a clay pot that contains a parchment that tells of the life of St. Nicholas. Through a long series of machinations, the parchment ends up in a museum in Akron, and it is here that the story is told:
Nicholas is born into a weathy Greek family living in Rome. When he is a young boy, he displays the ability to bend spoons by looking at them. For a while he just goofs around with the power, bending knives, changing wine to vinegar and vinegar to wine, that sort of thing. But when he sees some poor people, he decides to use his miracle power to help them. He makes food appear in a garbage bag where some of the poor people are scrounging. However, he discovers that he can only do one reliable miracle a day; when he tries to conjure up a sundial to find out the time, he gets everything but a sundial.
A few years later, he goes out into a snowstorm with his fur coat on backwards. He gives his coat to some poor people and creates another one for them, but that's the most he can do. Upset, he gets counseling from his friend Critius, who advises him to stop trying so hard and to take a vacation. At the seaside, he overheards a family despairing because they're in debt and the three virgin daughters have offered to get jobs at the local brothel. Nicholas throws three bags of gold through the window and then hurried back to Rome.
When he returns, he discovers that the Christian emperor has been replaced by a pagan one, and his parents advise him not to perform any more miracles. Miffed, Nicholas walks out of their house. He wanders for years but is finally arrested for giving his only cloak to a beggar--a forbidden Christian act of kindness. The officials want to throw him to the lions, but the only live animal they have is a bull. Thus, they dress Nicholas (who has now grown a beard) in a red coat and a red dunce cap, and they give him a big bag to carry into the arena. Does Nicholas have a few miracles left in him to get out of this predicament?
EVALUATION:
I'm no expert on the "real" St. Nicholas, so I don't know if this book is actually a parody of the chronicled doings of St. Nicholas. The best word I have for this book is "cute." I hate to call books "cute," but this one is cute. It's very minimalistic both in story and in art; the outline above is pretty much all there is to the story, save some embellishment of the details. There's an amount of wit in the story: the spoon-bending, the funny things Nicholas conjures up, his father's pagan statues becoming Christian ones, etc. The most amusing parts of the story are Nicholas's forcible transformation into St. Nick, i.e. Santa Claus, and the "travelogue" that St. Nicholas's parchment takes on its torturous journey to Akron.
Blechman is a cartoonist whose work has appeared in the New Yorker and elsewhere. The pen-and-ink art is very minimal, sketchy, and shaky, though detailed enough to show characters' emotions. What color there is soft and limited to backgrounds, special effects, some characters, and the red of St. Nick's outfit and a few other things that he conjures up. Like the story, it's cute.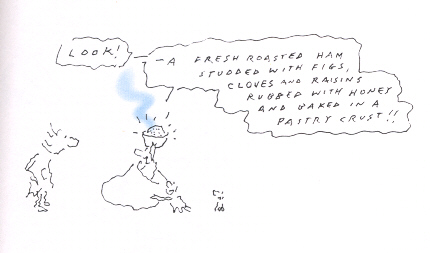 The pickings in the garbage bag are better than usual. It isn't every day I see a panel where the word balloon is larger than the picture.
Copyright 1996, R. O. Blechman
I can't find much to say about this book. It was a pleasant enough read--there's nothing bad about it--but it was too slender a story for me to get emotionally involved in it in any way, for good or evil. Except over the price; the price is outrageous, which is probably why I found it in a remainder store for $4.00. In that way, it reminds me of several Sergio Aragones collections--enjoyable, but with little return value and, hence, overpriced. Kids might like the book, though it's not the sort of "Santa Claus" book they might expect. In fact, I'm not entirely sure who this book is for. Because I have nothing more to say, I'll leave you with a quote from Maurice Sendak that appeared on a sticker on the cover of the book: "The jewel-like mind and eye of this rare artist persuade me that all is not lost in Bookland."